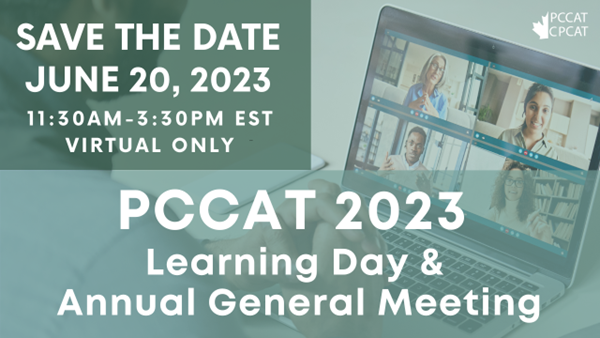 ABOUT PCCAT'S ANNUAL CONFERENCE:
PCCAT's annual conference is an opportunity for individuals and organizations to further the goal of increasing student mobility across Canada. Participants from educational institutions, government, and provincial CATs gather to discuss related research, promising new initiatives, and successful best practices in support of transfer credit recognition to improve access to post-secondary education.  
VIRTUAL #PCCAT2023 Learning Day and Annual General Meeting
DATE: June 20, 2023
TIME: 11:30 a.m. – 3:30 p.m. EST
The Pan-Canadian Consortium on Admission and Transfer (PCCAT) invites you to a virtual afternoon of connecting, strategizing, and learning about the current best practices, challenges, and successes regarding post-secondary access and mobility in Canada, as well as PCCAT's AGM.
PCCAT Membership purchase/renewal and Registration for the virtual conference and AGM is now available via the buttons/links below. Please purchase/renew your PCCAT membership for this year and then register for the conference. More details about the Program (sessions) to come soon!